Product Description
ZXTM-1080-G Automatic Foil Stamping & Die-Cutting Machine
Introduction:
This automatic foil stamping and die-cutting machine is the key equipments in the post-print foil stamping process for cardboard box. Better than the traditional foil stamping equipment, the automatic machine has the advantages of high speed, large quantity, high security coefficient, high accuracy. It can produce various of beautiful packing boxes with foil stamping. This machine adopts the international advanced technique, which has the high level of stability. We select and use the imported international famous brands for all electric appliances piece, standard parts and key components, such as, programmable controller, frequency converter, human-computer interface, screws, bearings, chains, bent axle, worm wheel etc.
Features:
●Adopt the intermittent organization in high accuracy to position the system with high accuracy, make machine's movement more steady, fixed position more accurate.
●PLC electricity control system that apply the electronics cam, making the procedure of the whole machine action's control more accurate, adjusting more convenient.
●The adoption man-machine interface monitors to show the system, making the machine circulate the appearance to is clear at a glance, breaking down the manifestation, breaking down the exclusion with proficiency, real realizes person machine dialogue, person machine exchanges.
●The adoption imports the spirit moves the clutch, the life span is long, the noise is low, leaving to match, system moves more steady. Pneumatic sampling system makes the sample-checking more convenient.
●All the electric unit, bearing, fastener , chain adopt imported famous brand products , ensuring precision and life.
●All the electric units are the products that have got CE certificate , every safeguard coincides with CE Standard, safe and reliable.
●The lord spreads to move the lubrication system adoption strong breeze cools off the device, making machine caned also develop in heat long hours worked out efficiency.
●Adopting imported servo-motor and computer for foil control system, foil convey and tension is constant.
●The foil can step, which greatly meet client's needs in various stamping. Twelve heating zones can be set individually and in constant temperature.
Specification: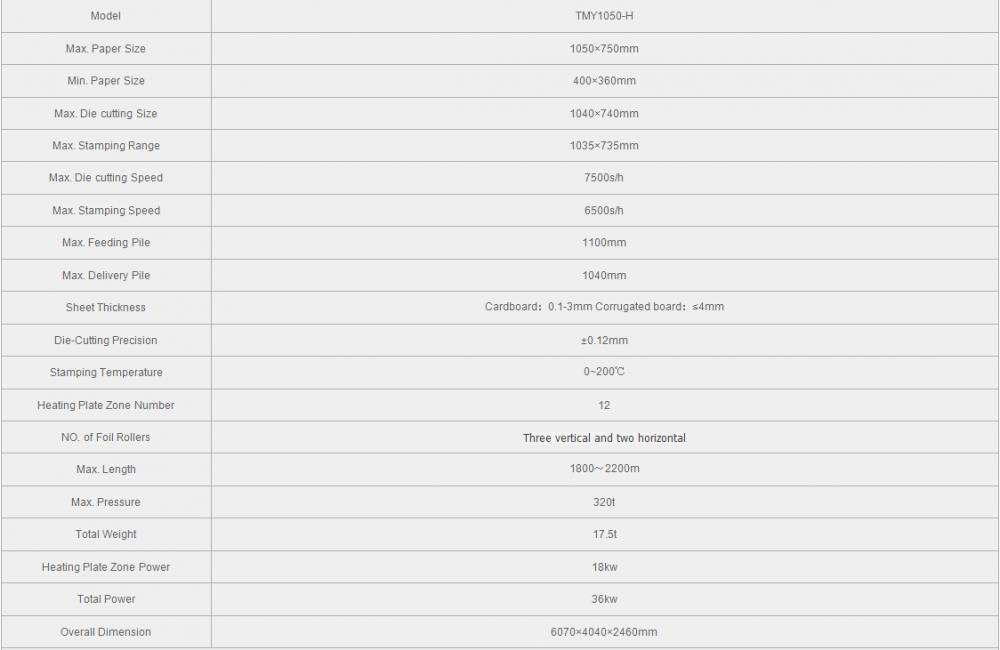 Detailed introduction: