Product Description
ZX series Automatic Folding Machine
Usage:
ZX series automatic folding machine is invented as a mini-type horizontal folding machine, it is suitable for folding paper in different styles, it adopt big rubber wheel to convey paper, separate paper precisely, operate easily and efficiently, it can be widely used in operation instruction manuals, document letters, business letters. the width of ZX-9B after minimal folding is 20mm, and especially suit for folding operation manual of the little medicine and cosmetic.

Folding examples:
Single fold, cross fold, baronial fold, double single fold, report forms fold, inner triple fold, symmetrical fold, outer triple fold, out five fold.
Parameters:

model

ZX-8B/2

ZX-8B/4

ZX-9B/2

Zx-9B/4

power (V/Hz)

AC 220/50 110/60

power (W)

70

folding

2

4

2

4

max. paper (mm)

310×700

210×420

210×620

min. paper (mm)

50×70

max.paper thickness (g)

125

min. paper thickness (g)

40

speed (m/min)

80

paking size (L×W×H)(mm)

1050×525×505

1080×530×580

1020×425×525

1020×430×580

weight (kg)

35

48

30

43.5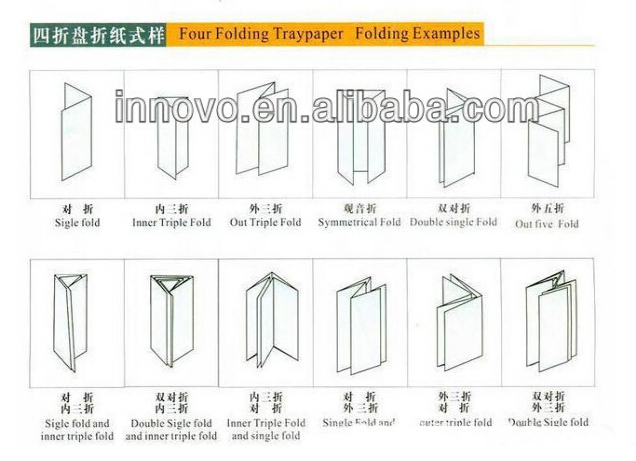 Our company is a global business enterprise engaged in the manufacture, marketing, research and development of machinery. Our company also provides import and export operations and technical training.
We are a professional company which manufactures and sells printing machines and office equipment. Our high quality products and perfect service have enjoyed a high reputation in the industry. Moreover, they sell well all over the world.
Our products include all kinds of offset machines, cutting machines, binding machines, bill printing machines, digital stencil duplicator machines, digital print machines, spray printing machines, print finishing machines and other kinds of printing, packing, advertisement and office equipment.
We sincerely hope to establish business relationships and cooperate with you.
Welcome your inquiry to us. We will reply you at the first time as we can.
*With 10 years' Experience
*Having ISO 9001-Certified Factory
*Strong R&D capability
*High Quality Guaranteed
*First Class Service And Best Prices
*Primary products:Automatic High Speed Flute Laminater
ZXSCM Book Case Making Machine
650UV Coating Machine
ZX-650C Manual Paper Pasting Machine
Box Making Machine
Hot Melt Gluing Machine and Gluing
Machine
Table Gluing Machine
Paper Pressing Machine
Welcome to visit our factory!