Product Description
GFM-1450 Automatic High Speed Flute Laminating Machine
Model Overview:
This machine is a quick sticker for printing cardboard and corrugated paper. The whole machine is designed for the tissue paper from Feida paper, the end of the paper from the front edge of the composition of the automatic feeding part of the paper, and paste paste, press the delivery part of the composition. Suitable for cardboard and corrugated, so that cardboard more eye-catching, beautiful, high strength, is the production of high-quality cardboard of the new equipment. Widely used in food, alcohol, household appliances, light industrial products packing.
Structural Features:
1.Using the world`s leading motion control system, simply enter the paper size system automatically adjust the machine.
2.Computerized high-speed fit, up to 10,000 per hour.
3.Chuan flow of the head, the limelight is equipped with four sets of advanced suction nozzle 4 groups up and down the nozzle.
4.Feida dock with low pile of paperboard, the paper can be attached to the board in place, can be installed on the track auxiliary pipe.
5.Use multiple sets of induct eye to see the bottom line relative position, so that both sides of the surface of the servo motor to do a separate drive compensation up down paper alignment, accurate and smooth.
6.Full-function electronic control system, the application of man -machine interface and PLC program lights display, can automatically detect the operating conditions and work records.
7.Automatic glue replenishment system, can automatically compensate for the loss of glue, and with the glue recycling cycle.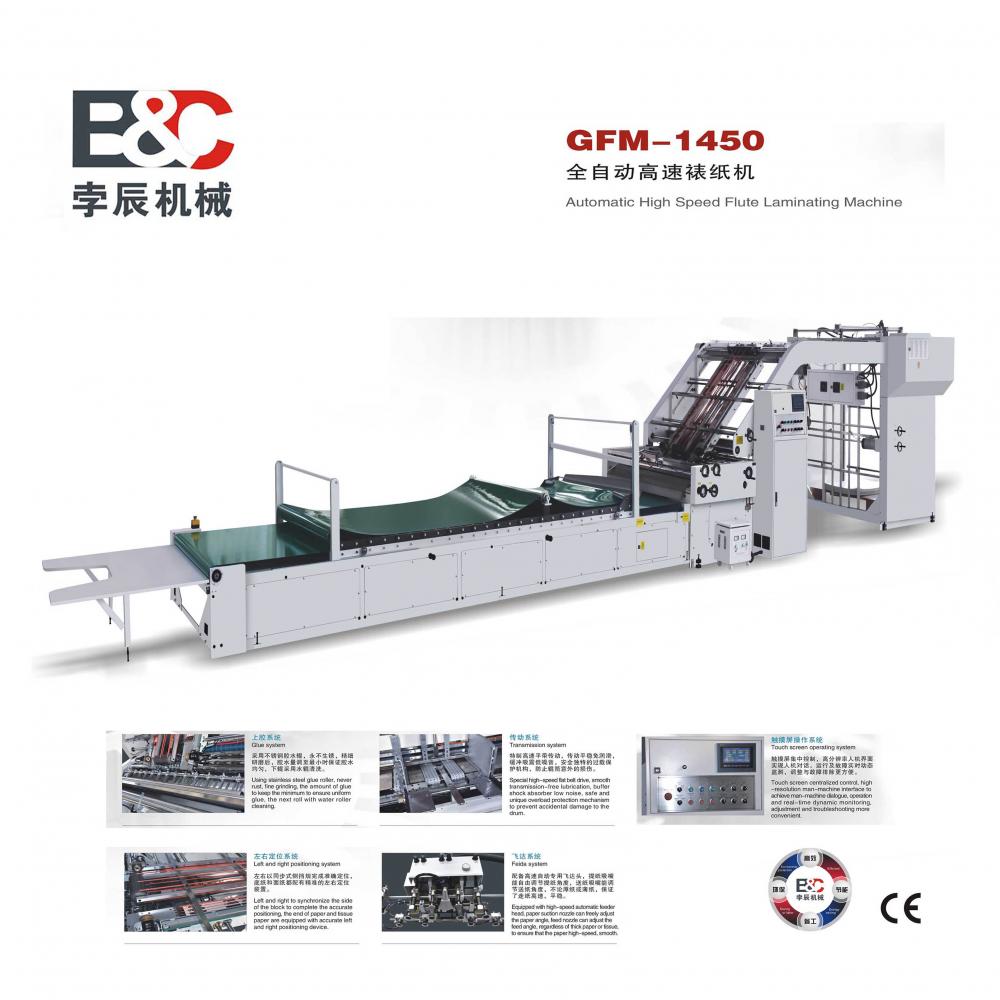 Specification:
| | |
| --- | --- |
| Model | GFM-1450 |
| Maximum Paper | 1250x1450mm |
| Minimum Paper | 450x450mm |
| Applicable Tissue Paper | 150-800g/m2 |
| Applicable Bottom Paper | Thickness<=10mm,A.B.C.D.E corrugated paper |
| Maximum Speed | 10000 sheet per hour |
| Total Power | 15KW |
| Fit misalignment | +1.5mm |