Product Description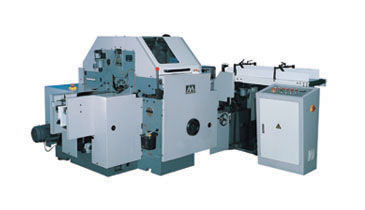 Product application:
It is used for the rounding, backing of the book block of rich-binding books.
Product composition:
It is composed of the book block separating, book turning-over disk, book block conveying, book block stepping, rounding, backing, and output.
Product functions:
Function of automatically accomplishing the step by step conveying of book block
To place the book block flatly that already passed the thread sewing, glue brushing of back bone, drying and cutting on the conveying belt, under the control of the photoelectric switch, the book block is fed into the machine book by book;
Automatic book block positioning function
The book turning-over disk turns the book block by 90° and places it on the book supporting guide with the back bone upwards, the book block conveying mechanism conveys the book block to the place of book block positioning one by one, then the book block stepping machine sends the book block orderly to the rounding and backing station;
Function of automatically accomplishing the pre-rounding and rounding of book block
During the rounding, the rounding template presses the book block downwards first for making the back bone form a slight arc, after then the rounding roll clips it tightly and rotates to form a round shape back bone, the pressing down amount of the rounding template and the angle of clamping and rotating of the rounding roll are both adjustable, it could control the size of the round shape needed by the book block;
Function of automatically accomplishing the backing of book block
The book block backing device conducts the rolling twice for the book block, it could obtain the clear round shape and obvious book back, at the same time the backing rack of the backing device is controlled by the photoelectric switch and the electromagnet, only during the book block arrives the position the backing rack could fall down, and start the backing;
Function of selecting the rounding template and backing knife according to the book block thickness
The arc guide on the book supporting guide, the rounding template at the rounding place and the backing knife on the backing device have multiple configurations of different widths and are size specs, it could be selected and used according to the book thickness, it is guaranteed that the necessary back bone round shape and back height could be obtained;
Function of keeping the book block form during book collecting
The book block that is completed with the rounding and backing is pushed out by the book block stepping device.
TECHNICAL DATA:
Description

Unit

BQ30

Max. running speed

book/min

30

Max. Book block size

mm

220×325

Min. Book block size

mm

100×125

Book block thickness

mm

8~70

Note: When the book thickness exceeds 65mm or the book is the largest format, the back bone uses the form of false back bone.

Machine total power

KW

2.2

Voltage requirement

V

380

Frequency

Hz

50

Weight

Kg

3800

Machine overall dimensions (L×W×H)

mm

3400×2485×1530