Product Description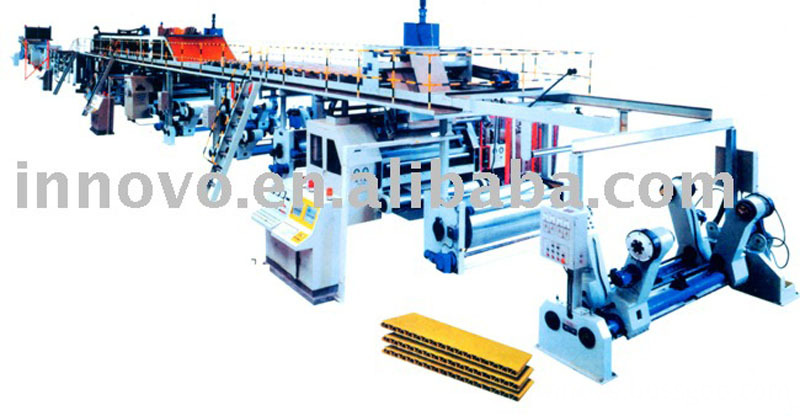 Specifications:
5 ply corrugated cardboard production line
Carton-Machine include shaft-less mill roll stand, finger-less type single facer
Characteristics :
This automatic assembly line for mass production will produce in line with national standards of quality corrugated board production and high efficiency, good quality cardboard, centralized control, simple operation, easy maintenance, safety and reliability, significantly reduced labor intensity of workers. The production line is currently using the latest international energy-saving methods, and use high-temperature heat transfer oil to the machine to provide heat, steam heating energy than 60%, greatly reduces energy consumption, effectively reduced the cost of production, the economy is the ideal type for The use of large and medium-sized carton factory.
1.the total length of 60 meters machine.
2. the whole of the total power 110kw.
3. no axis: the independent arms movements.
4.corrugated paper machine: Corrugated roller diameter 265mm-310mm, motor power 11kw-17kw, used to adjust the electromagnetic motor.
5.double roller gluing machine: upper, middle and lower end of the two-adhesive paper guide roll of paper.
6. dryer: the total length of 10 meters by 14 heating panels. Up to bear in pneumatic devices, automatic power belt separation.
7.definite forming parts: The total length is 6 meters, by 27composition axis.
8. longitudinal plane: In accordance with the requirements of the user optional ultra-thin knife and two knife & P, a high degree of automation, easy to operate.
9.cross-cutting machine: a computer into a single machine and double a total of four single-matching methods for customers to choose.
10.boilers: coal-fired power 120 kg / hour.
It is a non-pressure boiler energy-saving, the local warming from 0 to boiled temperature no more than two hours, almost no fuel consumption.
Technical parameters:
| | |
| --- | --- |
| Machine length | 60m |
| Total power | 110kw |
| Motor power | 11~17kw |
| Corrugated roller diameter | 265~310mm |
| Heating panel | 14 |
| Dryer length | 10m |
| composition axis | 27 pcs |
Company profile:
We are a professional company which manufactures and sells printing machines and office equipment. Our high quality products and perfect service have enjoyed a high reputation in the industry. Moreover, they sell well all over the world.
Our products include all kinds of offset machines, cutting machines, binding machines, bill printing machines, digital stencil duplicator machines, digital print machines, spray printing machines, print finishing machines and other kinds of printing, packing, advertisement and office equipment.
We sincerely hope to establish business relationships and cooperate with you.
Welcome your inquiry to us. We will reply you at the first time as we can.
*With 10 years' Experience
*Having ISO 9001-Certified Factory
*Strong R&D capability
*High Quality Guaranteed
*First Class Service And Best Prices